Hoedown At Love Valley Roubaix
Spring has finally arrived in Western North Carolina, and I can't be happier to put winter's cold blast in my rear view mirror. Apparently, Mother Nature didn't get the memo, because at the start of Saturday's Love Valley Roubaix, temperatures were below freezing, and so was I.
I registered for LVR on impulse – all the cool kids were going, so I felt like I should too. I rode to the race with Captain Morgan and John Glover, two of the coolest kids around. Gravel racing is a new stage for me, and I had no idea as to how I would stack up, but I was excited to test my legs and make new friends.
About a hundred and fifty of us took the line, dressed in all kinds of winter gear. Many of the racers were on road bikes with road tires. I was on my Giant TCX – Giant would call it a cyclocross bike, but I refuse. It's my gravel bike, and it's growing on me. I chose to run Clement Xplor USH 35's, which weren't as fast rolling as road tires, but they roll fairly well, and they inspire confidence when cruising over gravel. Nox Composites is currently developing disc cross and road wheels, but I have yet to try a set - I hope to soon, because aside from the pilot, that is the weak link of my current equipment.
At the gun, we followed a lead car through a cloud of NC dust. After the pilot car peeled away, the pack of riders quickly strung out and the leaders motored-off into the distance. Among the leaders was Nox Composites team mate BJ Froystad, who had his sights set on a strong finish. A group of about twenty clung together as we entered the first gravel section. Soon after we hit the stones, rider after rider was passed on the side of the road repairing flats. Word is that around 25 flats occurred in the first ten miles or so. Any doubt regarding tire selection quickly faded. Unfortunately, I would pass BJ with his first of two roadside stops. His road tires failed him at Love Valley, where his day ended prematurely - bummer, because that kid was on fire!
Our group splintered on the first good gravel climb, and a new group of ten or so riders recollected on the asphalt to work together through the next fifteen miles. Bluebird skies dominated the day, and I quickly forgot just how cold it was.
We had ridden up to the unmistakable figure of Mark Farnsworth on his single speed mountain bike. Mark was making good time, but he was all alone on the flats that led to Cherry Grove climb, and we reeled him in at the base. As we began to climb, it was every man for himself. No longer in a group, riders were strung out all over the asphalt pitch. Once over the top of the climb, I was able to motor away from most of the others – my tires allowed me to attack the descent, and my gears helped me put a little gap on Mark. He would work his way back ahead of me shortly after the descent.
One of the cool aspects of mixed surface racing is that there are a multitude of differing equipment options. While one bike might climb well, another will descend better, and yet another is more suited to the flats. This means that a racer is likely to pass, and be passed by the same rider several times over the course of the event. I dig that.
We approached the last few undulations of the course, returning to the rustic Love Valley start/finish. Mark and I were spent, but we hooked-up in the last 1000 meters, and sprinted to the finish. He got me at the line – I couldn't lose to a nicer dude. I finished 5th among 40-49 year old racers, for 19th overall. Truth be told, Mark Farnsworth deserved 19th, as he was mis-scored.
Blue Mountain Revival Productions puts on a hell of an event, and attracts the best contingency of characters that one could hope to race against. The after race meal hit the spot – consumed beside the wood stove in the Silver Spur – real food for real people. I look forward to more of these types of races, hopefully contended in far warmer weather.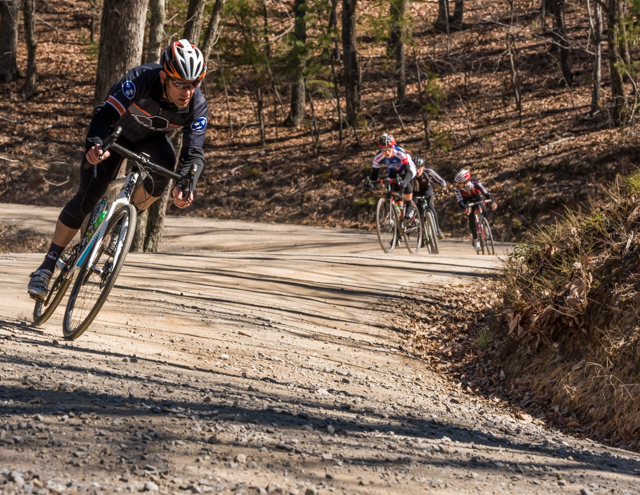 Thanks to the team co-sponsors: