Trial By Fire - True Grit Epic
True Grit Epic loomed large on my calendar. The idea of traveling to Utah to race the NUE season opener was met with excitement and anxiety. The best way I can imagine to ruin a good vacation is to race 90 miles of Mohave Desert rocks and sand. I had never raced an NUE event, and had no real expectations, aside from gaining experience and new friends. Mostly, I wanted to finish the race.
In the cool desert morning air, racers shivered and commented how they couldn't wait to get racing and warm up. The sun hadn't shown itself yet, but it soon would. The race had a staged start, and Single Speed racers would set out seven minutes after the Open Class. We were led out through Santa Clara by a police escort, and my 32x20 gear soon had me dead last. Race organizers advertised 15,ooo of climbing, so I brought my Pisgah gear. On the asphalt, I was regretting that decision, but as we began to climb to Zen Trail, I was appreciating my choice.
I spent the first lap within my limits for the most part, and passed up through the field with Peat Henry, fellow Single Speeder. He was fine company for a march through the desert. We chatted while we exited Zen and climbed to Bear Claw Poppi. We dropped into Bear Claw Poppi, and coasted for what seemed like miles. My Nox Skyline wheels did all the work – my only job was to keep speed by staying off the brakes. I can't believe how well those wheels roll! This was the only place on the course where you could rest. Trails weaved in and out of each other, but they all went to the same place. We descended to a turnaround, and began to climb to Barrel Rolls. Peat lingered at Barrel Rolls water stop. I moved on after getting water and shoving down a couple of orange wedges and a piece of a pb&j.
There are no long climbs at True Grit, just endless interrupted terrain requiring punchy efforts. There are few chances to rest, and there is no shade. I was beginning to fade toward the end of lap one, and realized that I needed calories. I shy from real food when I'm hot, and it was approaching 80 degrees in the desert sun. I was turning pink. I ate an Ally's bar, and looked forward to the Zen trail water stop, where I had more comfort items in my drop bag. Still, Barrel Rolls was fun, and I was gaining confidence in my purchase on the desert rocks. Pisgah rocks are wet and slick - a far cry from the Utah terrain.
Lap two promised to be tough, but I felt like I knew the course, so I hoped to eliminate additional pedal strokes due to off-course excursions. I still got off course, mostly from not looking up to see course markings in the distance. Peat rode back up to me, but we separated again during our second trip through Zen trail. I got a small gap on him, and rode alone to Zen water stop. I grabbed water and more real food and headed solo to the second half of the course.
I struggled through Barrel Rolls the second lap, but I felt confident that I could hold my position to the finish, barring incident. I rolled through the water stop after completing the loop and began a short bench trail to end the lap. I spilled out onto the initial wash climb, and turned left towards the Santa Clara asphalt. I clown pedaled to the finish over a flat mile time trial, looking over my shoulder more than once. I crossed the line as 7th Single Speed in 9:08. Hardly a noteworthy finish, but a finish, none the less. I arrived to the Single Speed podium presentation. I was never in contention for that ceremony, but I got to see Gordon Wadsworth on the top step. I learned shortly that Keck Baker won the overall, and Nox Composites team mate Barnabas Froystad took 5th in Open Class. Solid work by my traveling companions!
As we stuffed our bikes into the minivan, I was spent, but pleased with the day's events. No mishaps, no mechanicals, and nothing but positive memories of True Grit Epic. My new Nox Skyline wheels performed flawlessly, and rolled like butter. I can't imagine a better way to begin my season – well equipped, in good health, and surrounded by quality people.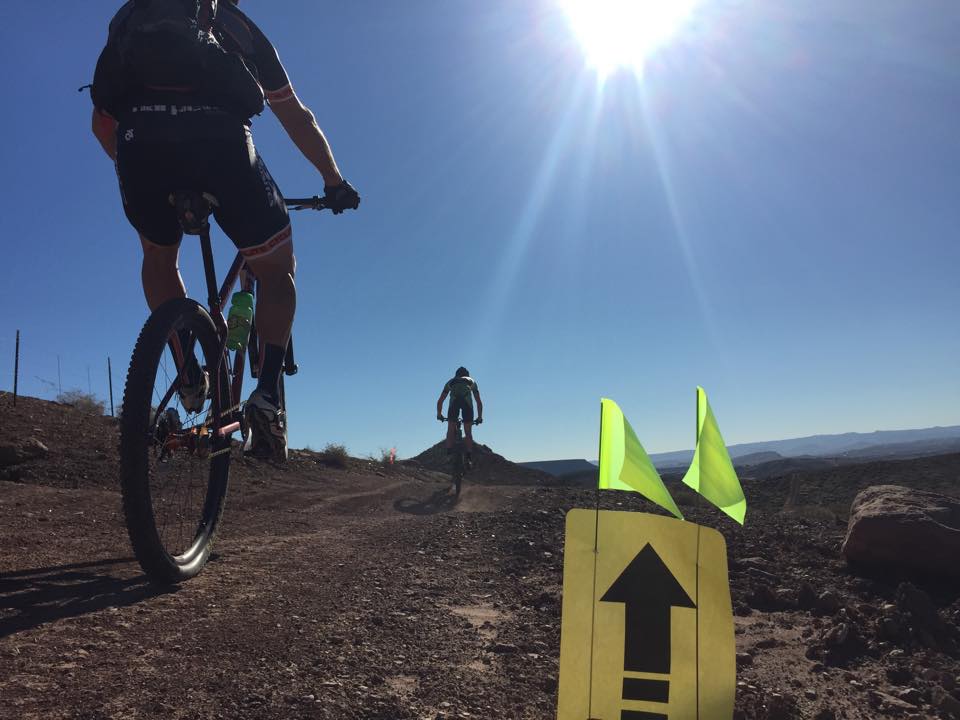 Thanks to the team co-sponsors: